Current Status as of 4/9/13 -
Motivation 2013-Prod by, DJ Hoppa(Purchase Extended Version Now)Click Here!
Download Jaron's FREE Mixtape(CD)
feat. Moment 4 Life, 2 Unreleased Tracks, Find Your Love Mix, Troy's Collabs, etc...
PLUS
(MORE FREE MUSIC, BONUSES, ringtones, etc...)
Sign Up
Below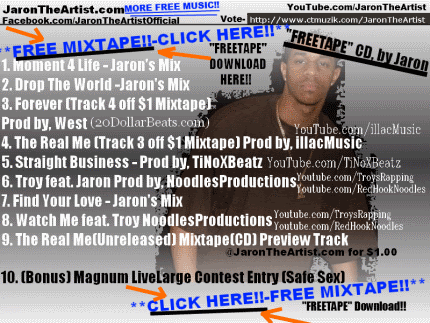 We hope you enjoy your stay and remember to bookmark the site!
Be sure to fill in your name and email address to receive the FreeTape(CD) immediately in your email inbox upon signing up!(although check your spam folder if it misses the inbox)